Vettel to Challenge Hamilton in USA!
The two drivers who are the main title contenders for this years F1 drivers championship are due to race at the USA circuit next weekend.
The last couple of races haven't fired well for Sebastian Vettel, having had engine troubles in both races, and having to retire from the latter.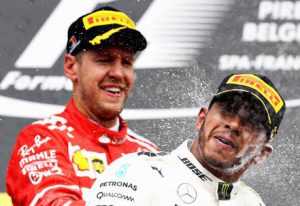 However, now Sebastian trails Lewis by a reasonable amount of points, it will be lucky is he can get anywhere near being a contender. This may well work in his favour though, as he has little to loose by going "all out", where as the Englishman has it all to loose if he has to retire from any of the future races.
article continues below
Will this effect Lewis Hamilton at USA, we don't know. From his efforts with Nico Rosberg last year, we know that when the title is on the line, he can still control a race with little mistakes. But then, last year, he was in Seb's position where he had little to loose by trying.
Will Redbull throw a curve ball into the mix? The last few races have certainly showed promising pace for the team, not only being able to race in and around the red and silver competition, but also beat them with the excellent driving of Max Verstappen.
Can Ferrari get back to reliability after their recent problems?
A week to go before practice, let us know what you think will happen.