Ferrari and Vettel are fighting back in USA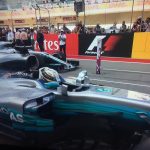 Ferrari have displayed they still have the pace to fight Mercedes. Coming in to the final qualifying session of the United States GP, Lewis Hamilton looked as though he had secured a comfortable Pole position, with his team mate Bottas set to start beside him on the grid.
Things didn't stay that way though. Lewis did manage to hold on to his lead spot, turning in a faster lap at the start of the session, but in true fighting form, Sebastian Vettel in his Prancing Horse managed to split the two on his final qualifying run and take second on the grid.
As the top drivers lined up after the session for interviews, Lewis Hamilton was very respectful of the pace Sebastian Vettel brought, and possibly even excited about the race to come, rather than hoping to have the championship wrapped up after the end of this race alone.
Lewis Hamilton has it all to loose, but he has proved time and time again that he can keep calm and cool under pressure. Will the Mercedes be able to give Lewis the Race pace he requires to keep Sebastian behind? Is the Ferrari's race pace able to match, or even beat that of the Mercedes?
What roles are the other team members (Valtteri and Kimi) going to play in effect to how the race unfolds?