Do any F1 drivers like Lewis Hamilton?
With Formula 1 releasing video footage from inside the drivers briefing, we get a view of how the drivers act with regards to one another, especially when they believe the rules might be being broken.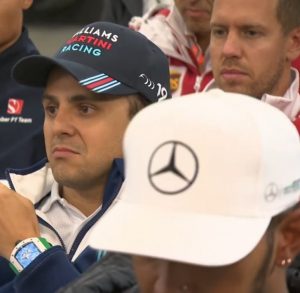 In the latest Video from the 2017 Japanese GP driver briefing, one of the first points brought up is from Lewis Hamilton saying that he "heard that Sebastian didn't put the steering wheel back on". This came over as a dig at the German driver for having not replaced the steering wheel, especially when the footage of him having taken it with him is easily available and it's unlikely that Lewis has not watched it.
From an unbiased opinion, it felt as though after Lewis had questioned Sebastian Vettel's actions, several of the other drivers questioned his!
Romain Grosjean was the first to pipe up, and he did so very quickly. "After the chequered flag, are you allowed to undo the belt?" "NO" was the answer, which Romain followed with "Lewis has been doing it, quite a lot."
Massa then seemed to back up what was said by Grosjean, in that the belts are released rather than slackened, although this could have been said as purely for information rather than aimed specifically at Lewis.
The English championship leader also commented on the belt front, with a dig at Vettel, "driving so slow, maybe Sebastian should keep his on". We witness a fairly awkward laugh from few of the other drivers before the meeting moves on, like Lewis doesn't have many friends among the drivers.
We'd love to see more of this fight on the circuit, but maybe some are just jealous of Hamilton, who has proved time and time again he can take the top spot. Who like's being constantly behind?